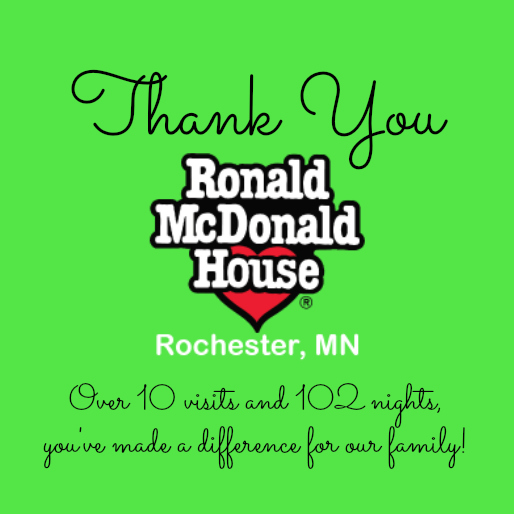 Tonight marks the end of our 10th trip and the 102nd night our family has spent at the Ronald McDonald House in Rochester, MN during the last six and a half years. As I sit in one of the common areas and type, I cannot help but think of all the families we have met here over the years: some with children who were struggling to stay alive and some with children like ours who are struggling with how to live.
When you're not a member of the illness club, or a parent who cares for a sick child, you don't realize what it's like to live life differently. Back home, people see me as a leader, friend and even a confidant. But most will never see the other roles I play because three people in our family are sick: patient, caregiver, pharmacy tech (you should see our cupboard), part-time insurance and billing coordinator and pseudo-nurse. But as I have explored the halls here at the Ronald McDonald House and at the Mayo Clinic where we receive treatment, almost everyone I see understands these roles all to well…or they will soon.
So tonight, I was thinking…what would I say to a parent or patient who was just starting down the road of difficult illness? (Because there's not nearly enough information out there for the newly diagnosed!) Here's what I came up with:
1. Be Patient
Life slows down when you've received a diagnosis. And, MOST medical care is not emergent. Unless you need the ER or emergency treatment, everything will take more time than you like. When you've received a difficult acute or chronic diagnosis, take a breath. Yes, the patient feels terrible, and it's devastating to try to take it slow when you see those you love in pain or dealing with illness. But the medical professionals have reasonable reasons for taking it slow. It really is better to change one thing at a time…so you know what's helping and what's not. So try hard to take a deep breath and give each treatment or change time to start working.
2. Be Persistent
A diagnosis means YOU have just become responsible to understand and advocate for yourself or your child's illness. I wish all families new to illness would instantly know what to do in every situation, but it's not that easy. You will likely need to do some research, make sure you're seeing the best experts available to you, and learn how to listen to and communicate with doctors and medical professionals. Without stating it too strongly, it is your responsibility to learn everything you can about this illness and understand any treatment plans. Doctors are experts in medical management, but parents and patients are experts in their own and their children's needs. Speak up when you need to, and be an advocate for yourself or your child.
3. Be Perceptive
Along with illness comes emotion. We all have feelings. Caring for difficult physical needs is not emotionally easy. In fact, it can be downright hard to recognize and accept the "new normal" you're encountering. Whether this new normal involves living in a hospital, dealing with daily symptoms, medications or treatments, or simply coming to terms with newfound boundaries, our emotions are intimately involved in living well with illness. Be perceptive of your own needs and the needs of your loved ones. Children and adults alike can have some very profound thoughts and questions as they work to understand and cope with illness. Keep talking and exploring, even if you don't have all the answers.
4. Be Present
Life doesn't end with a diagnosis. (Even if it seems that way right now.) Ill people and their families have a ton to deal with, but normal things, even fun things, still occur in their lives. Making dinner still needs to happen, even if it's a call for pizza delivery. Washing clothes is still important. And even doing homework can be a priority. Interestingly, ill people have a great deal of time on their hands…typically spent feeling sick or in pain. But they also wait a lot: for treatments, for doctors, or for answers. Plan ahead now to use this time well. Try not to spend it feeling sorry for yourself or your loved one. Instead, be present with them. Use it to do something fun, or at least distracting. And make the most of each minute. Ill people are still living…so LIVE!
Surely there is much more information and there are many more practical tips to help those dealing with new diagnosis, but those four thoughts are a great starting place. And if I added a fifth tip, it would be this: be open to help. I love coming to the Ronald McDonald House, and for sure, it's not because I love illness. I love coming here, because I am surrounded by families who "get it" and served by strangers, and after ten visits now, even a few people I can call friends. They cannot make my children or me better, but they do what they can to make everything around me just a little bit easier and even a little bit more fun.