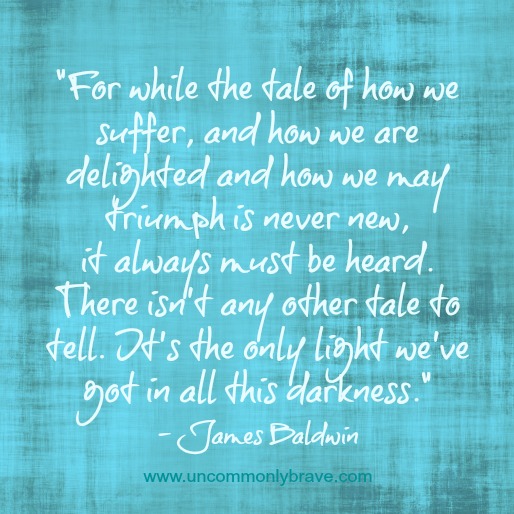 I came upon this quote recently. Drink it in…read it slowly as to savor it.
"For while the tale of how we suffer, and how we are delighted and how we may triumph is never new, it always must be heard. There isn't any other tale to tell. It's the only light we've got in all this darkness." – James Baldwin
When I came upon this quote, it immediately spoke to the very core of my heart, perhaps even my soul. It's true; while the tales of acute or chronic illness are never truly new, they still deserve to be told. My story, the story of my family, as common as it may be, still needs to find its wings and flutter into form.
As I write, I sit in the common area of the Ronald McDonald House. In the background I hear families preparing dinner, playing games and telling and retelling their stories of what landed them in this terribly special, but never-in-a-million-years-wanted-to-be-needed place. Forty-two rooms. Hundreds of stories per year. Over the years, we've spent well over one hundred days and nights in this place. This time it is a wonderful family from China seeking treatment for their son's spinal tumor, a girl with a progressive autoimmune disorder who doctors agree has a limited life-span, and a teen with complications from a past brain tumor and with a new mystery illness. And it's a myriad of others, too many to list.
Our story of Mast Cell Illness, Ehler's Danlos Syndrome, Postural Orthostatic Tachyardia Syndrome, Developmental ADHD, Traumatic Brain Injury and the like seems to pale in comparison. I don't know why. Our story is not less real. It is not less life altering. And it is not even less complicated, especially because there are three of us in one family: with three sets of doctor's orders to follow, three sets of ever-changing medications and three unique ways of managing chronic illness. Perhaps I am simply so intimately acquainted with our story that the complex seems simple when I recount it.
It would take miles of paper to tell the tale of how we landed in this place. For now, it's sufficient to know that while some people find themselves facing health care crisis in an instant, our process has been much more like a small snowball rolling down a hill filled with fresh new snow, gathering steam and growing larger all the while. And try as I might to stop the impending avalanche of symptoms, diagnoses and treatments, the snowball has continued to grow.
Though I can talk about our family illness story for years if you ask, other than my close friends whom I probably bore with all the details, you will not know our true tale. In part, we keep the story silent to stop from "boring" families without health care issues of their own. Sometimes we keep the details hidden because unless you're experiencing the symptoms daily, you could never understand the extent to which they radically alter life. But perhaps the strongest reason I don't share our story is that it's hard. And hard can be discouraging. I don't like to be discouraging.
For our family, living with chronic illness means each day is like a minefield we are forced to cross. It's hard when mom has daily trouble breathing, or when our girl has unquenchable levels of pain or when our son experiences life-altering memory problems. Our story includes fear of daily anaphylaxis, autonomic systems that don't function and electrical wiring in the body run amuck. And the list goes on.
Every time a symptom crisis occurs, I feel a catch in my chest; I think the tightness in my throat, the instantaneous nausea and the feeling of despair that grips my core is my physical expression of suffering. Someone once told me that while pain is inevitable, suffering is a choice. I completely agree…in part; suffering is an emotional decision. I CAN choose to see the good in our situation, to choose joy in the midst of pain. (And if you know me, I do; perhaps I find the good in illness to a fault.) Normally, I make a choice to evade suffering and deal head-on with pain. Yet, I must firmly disagree with the whole of that paradigm.
Sometimes, the fatigue of the daily struggle against pain and illness lets suffering stealthily creep into my soul; that is one part of the tale I believe James Baldwin says must be heard. When moments of suffering crash into my soul, in a single instant I grieve every loss of years of illness. Every dismissive doctor, every lasting symptom, and every outing ever missed cries for attention. Scenes of the active family life we will never have taunt me. Flashes of pain, grief and loss rapidly fill the pages of my mind's illness memoir. For as many moments as I allow, suffering takes hold. Like a bad flu, it wears me down, robbing me of health, life and energy.
Suffering, however, is not our end. In the most hidden parts of me, as I wrestle through my feelings of loss and pain, I know suffering is truly a beginning. It's a place where I can begin anew, moving through sadness toward peace and hope. Scripture says, "suffering produces perseverance; perseverance, character; and character, hope. And hope does not put us to shame. (Romans 5:3b-5a)"
Perhaps someday, whenever people think of our family health story, they will find hope. But for now, I am content to know it's again a season of perseverance; staying steady in the rough times and joyful in the good times. And though every day, I would like to move straight to hope, sometimes the cycle restarts itself at suffering. Try to skip this step and more suffering is likely incurred.
That's the beginning of our tale that begs to be heard. It's devoid of details and perhaps lacking in inspiration; it's not yet bursting with joy and triumph. It lives in the tension between suffering and hope. It teeters on the edge of despair and rushes again toward expectation. And as James Baldwin offers, "it's the only light we've got in all this darkness." It is how the character, and ultimately the hope, of Jesus is being lived out through us.